Batman - The story of Mongoose Cricket
On the morning of the 22nd May 2009, almost six years to the day, the sports world woke up to news of a radical new cricket bat. The bat, originally codenamed the 'Albert Trott' in honour of the only cricketer to clear the pavilion at Lord's, was in essence an oddly shaped paddle. It was the biggest innovation, in terms of appearance, to hit the traditional game in over 100 years. Yet less than 4 years later it disappeared from the Sky Sports screens, and the company behind it, Mongoose Cricket Ltd were plunged into administration. This is the tale of that bat, and my part in the story.
Launch
10 minutes of primetime BBC breakfast TV. Another 5 minutes on Channel 4 news. A discussion piece at watercoolers, cricket grounds and pubs. Such hype was unprecedented for a launch of a sporting product and particularly so for a launch set for the Friday before a Monaco Grand Prix and Rugby Cup Final.5 minutes on C4 news covering the bat
The launch was set at Lord's, the home of cricket. A location selected specifically to highlight the changing game of cricket and to lend credibility to this new, crazy cricket brand. The Lord's Media Centre formed a perfect backdrop for the numerous press shots and interviews. Cricket was moving into the 21st century.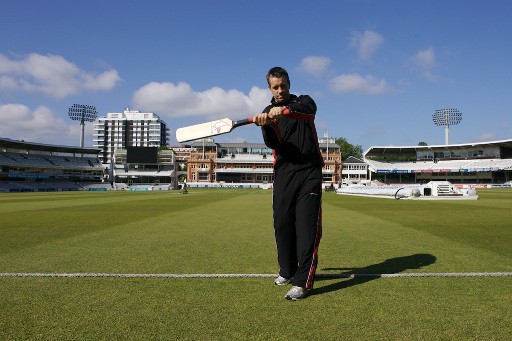 How I ended up at Mongoose
I, like most of the UK, woke up early on that Friday and saw the bat. Little did I know, within 3 days I would be moving to London and taking part in that wonderful journey.
I was obsessed with sports equipment. I cared more about what sports equipment the athletes used, rather than actually spending time in the game. After leaving school in Derby, aged 16, following my GCSE's my first job was working on a farm in Crewe, for a family run cricket bat manufacturer called Fusion Sports.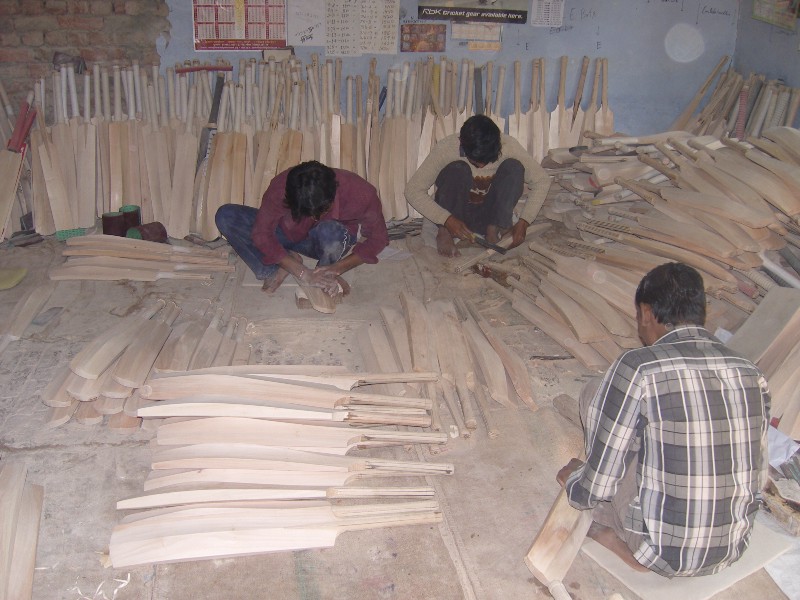 For my 17th birthday, I flew out to India alone for 2 months to work in a factory shaving, shaping, stitching and sanding cricket equipment. And by the age of 17 1/2 I had twisted my parents arm to borrow some money, and founded my own cricket brand. Itias, a small company specialising in importing hand-made cricket bats from Pakistan and India.
Needless to say, there was nothing more I wanted to do than work in cricket. And when Marcus Codrington Fernandez (MCF) appeared on our screens, there was one place I wanted to be. I fired off an email to the company, and within 3 days I had been interviewed and had moved down to live in London. Albeit in a £25 a night B&B for the first month.
Early days
The first 6 months for any start-up is turbulent. But based out of a small, 3 person office in Primrose Hill, we set about turning the cricket world on it's head.
Surprisingly, Mongoose had launched without any stock. The bats were all to be handmade to order by master craftsman of 50 years Tony Cook. This was our first problem. Tony, employed by Hunts County Bats, could produce approximately 5 bats per day for Mongoose. Unsurprisingly, a national launch, drove well over 40 bookings within the first couple of days of launch. The supply/demand problem, would prove to be an ongoing battle for Mongoose over the coming years as we tried to fight cash flow and keep customers happy.
Once the initial demand, driven by the launch and a single appearance by Derbyshire cricketer Stuart Law, had died down, there was a lull in orders. Like any business, if there is no PR or marketing — the customers will lose awareness. We heavily focussed on correcting this, and eventually, after a couple of months of trying secured a sponsorship contract with Dwayne Smith, a hugely talented West Indian all-rounder who was appearing for Sussex in the latter stages of the English T20 tournament.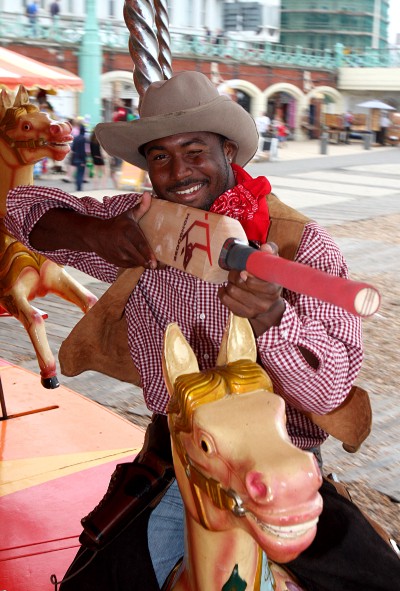 Unfortunately for us though, we hadn't considered that cricketers wouldn't actually use our new 'game changing' cricket bat. In his first game for Mongoose, Dwayne used his regular bat restickered as our CoR3. The more traditionally designed bat. And for the year he was signed with Mongoose he used the headline grabbing MMi3 only once, in an exhibition game in Australia
Dwayne, like many of the cricketers we signed at Mongoose, was a hard hitting all-rounder. A match-winner. He was using another brands equipment at the time, however we managed to tempt him away with the promise of a massive increase in endorsement fees and some hefty bonuses around performances. Whilst in absolute terms, the figures were not massive — it would set the scene for our approach to sponsorship. We'd pay better than anyone..
---
Initially, we had hoped to only sell the Mongoose range direct via the website. However after the intial demand died down it was patently clear that without significant advertising we would only manage a couple of sales per day, which for a brand with visions of dominating the world was unrealistic.
We made the strategic decision late in August 2009, after securing some much needed investment (in early August we were heavily in debt, and looked likely to go into administration then), to launch into UK retail stores. This gave us under a month to design, prototype, cost and launch our range. Optimistic to say the least. I reached out to some of the suppliers I had worked and spent time with in India, to help us out and we set about designing some crazy new protective equipment.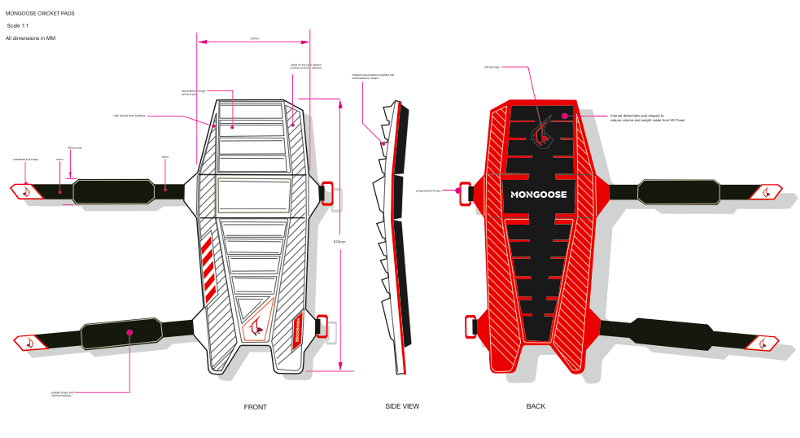 The designs were bold, using materials never used before in cricket, with the aim of being the lightest equipment around. The final designs were briefed into India only 1 week before the tradeshow started. The factory in India managed to turn around some prototypes, however they were miles off our expectations and certainly not what we wanted to show suppliers.
In late 2009 at the Lord's show, we launched our range to the UK retail trade. At this show that one of the most memorable pieces of advice came to me, from Nick Keeley, batmaker at Newbery Cricket. His words, "You don't see me driving around in a Ferrari, you'll never get rich from cricket bats" resonated more and more as Mongoose fought the tides of cricket.
Sports equipment pretty much all works on the same margins, and we opted to price our product at a sub-premium. At only £259.00 RRP (£140.00 trade price) the bats were amongst the most competitive on the market, in hindsight potentially too cheap considering competitors equivalent bats would retail in excess of £350.00. Despite this, there was doubt from the age old cricket industry about the product, it's viability and the interest in it.
We ended 2009 with around 350 bats sold and around £45,000 in revenue. A promising start, however far lower than one would have expected from a national televised launch and significant press coverage. The cricket industry was lining up to be tougher than we had anticipated.

---
Whilst sales wained, Mongoose continue to grow as a known brand in the industry. The signing of Dwayne Smith led to a baying pool of agents, all keen to get their players signed up and their hands on the new found investment.
In late 2009 we made signings such as Lou Vincent, the New Zealander, and Mohammad Ashraful. The flashy Bangladeshi captain, known internally at Mongoose as the Bangladeshi 'Ian Bell'. Neither player scored substantial runs, nor grabbed the headlines for their on field antics. However interestingly 5 years on, both Lou and Ashraful went on to be outed as known match-fixers.
One of our less suspect signings was the signing of James Anderson, the England fast bowler. Whilst not known for his batting prowess, the England poster boy commanded a significant five figure sponsorship salary. At the time, it was incredibly exciting — and for the first time ever in cricket it was time to shout about the bat of an England No.11.
To announce the signing of Jimmy, we arranged a photoshoot in London. The majority of cricket photoshoots revolve around a player swinging a bat around a photo studio in their cricket whites. Mongoose however was different. There were no slog sweeps on show, instead we recruited the assistant of fashion designer Isabella Blow. Armani, Dunhill, Givency and other top fashion designer wares dominated the shoot. The results were some spectacular imagery, worthy of GQ magazine.
Production woes
In 2009, we took our first steps into retail. I've already covered the woes of prototyping at short notice. Full-on production, however, was a different beast.
In August 2009, when most cricket bat manufacturers have finalised their range and mass-production is already underway Mongoose were scrambling around trying to survive. At one point in August, I was invited to MCF's house and was told that my salary for that month could not be guaranteed. Times were tough, the initial boot-strapping of funding from Marcus, who had poured his life, soul and life savings into the business had run out. The mooted investment, assumed to be a simple case of putting pen to paper fell through due to IP issues and other squabbles. From an outsiders perspective, we looked secure with signings of Dwayne Smith and negotiations ongoing with an Australian fast bowler for the Ashes series. However we were falling apart.
It wasn't until mid-September, that an emergency loan (later to be converted into equity) was secured from a number of private individuals. This secured Mongoose's future for the short-term, however all production plans were in tatters.
Nevertheless, we pressed on with the Lord's launch and secured orders for bats to be delivered by the end of the year. Around 160 in total, all needing to be manufactured and delivered between September 2009 and October 2009. The sports retail industry works on 30 day payment terms, meaning we would have to front money for 160 bats to be manufactured and survive another couple of months without getting paid.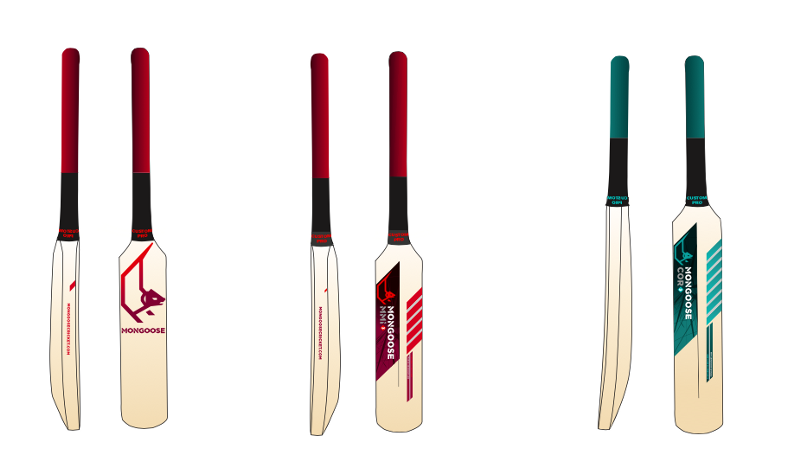 We attempted negotiations with Indian suppliers, such as Sareen Sports however many of these were wary after the failure of Woodworm and were insistent on 100% payment upfront. Time was also a factor which made working with Indian suppliers initially very difficult. As if a lead time of 30+ days for a stock order to be manufactured wasn't enough, there was the 40 days delivery time for the freight to reach the door via sea freight. Air freight sped up the process significantly, but ate into margins tremendously. It cost approximately 20x more to air freight bats, compared to sea.
Eventually we managed to secure terms, with Hunts County Bats. The manufacturer who had helped with prototyping and the initial launch phase. Although they had their own orders to also fulfil, they moved heaven and earth to get our stock orders out and the wheels were fully in motion.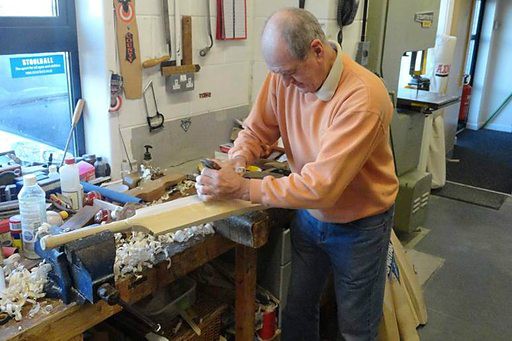 As we begun to move further into retail, it became clear our product range was not sufficiently wide enough to satisfy many retailers needs. We'd already looked into expanding into 'soft' pads and gloves for 2009/10, and failed, now we were being asked for a new range of Junior bat.
The Junior market is heavily dominated by low grade Kashmir Willow. These bats made up the vast majority of the sales matrix, and although low quality, they can be seen as a great way to build brand affinity. Kashmir willow bats are made in India, and generally cost somewhere in the region of £4-£8 to manufacturer in the factories of Jalandhar or Meerut. Thanks to our earlier production woes, we didn't have this stock, leading to many suppliers anxious to stock a new product where the lowest retail price point was in excess of £100.00.
The attitude at Mongoose, however was often build interest, and we'll solve the supply issues later. Supply issues were often seen as a positive — after all, who ever wants to go into a nightclub that doesn't have a queue? By mid November, we had in excess of 150 junior Kashmir willow bats to manufacture and deliver. Delivery dates were spread from December through to March. In short — we needed Kashmir willow bats, within the week. Impossible.

With our new production nightmare, we again went back to Hunts County bat — hoping for some assistance in solving our pickle. We took the most unprecedented and perhaps least cost effective route known. Our £26.50 trade price Jnr Kashmir willow bats were to made here in Huntingdon. How did we do this? We took a stock of their Kashmir willow mens bats — and cut them down into Junior bats. Genius?! Amazingly, we managed to still make a small profit on what surely must be the only ever Kashmir willow bats made here in England!
2010 — New year, new challenges
Somehow, through hard-work, luck, some help from other companies and a lot of marketing genius Mongoose had made it through its first 7 months of trading. All whilst it looked like plain sailing from the outside.
2010 would be the year Mongoose would really look to press on and become established in the cricket industry. 2010 would bring a new cricket season, the World T20 cup, another edition of the IPL and of course, the Ashes — the tournament which made Woodworm, a brand we were often likened to, a favourite amongst.
Much of our time in early 2010, whilst not chasing production orders or sourcing new investment, was spent perusing Cricinfo and speaking with agents regarding new signings. At the time I was 18, and this was heaven, an opportunity to meet some of my heroes and, hopefully, see them using a product I'd help them design.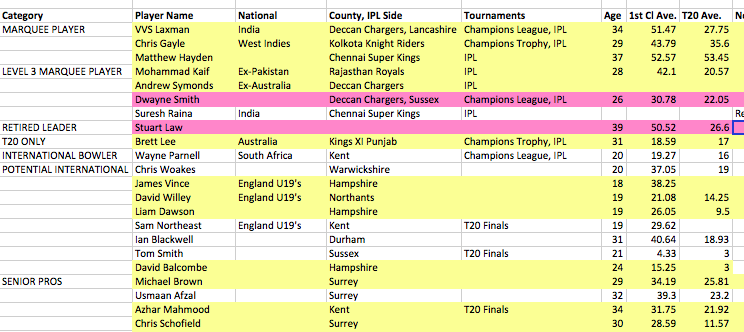 Matthew Hayden, had long been one of the targets of Mongoose, in IPL 2009 he received the Orange cap as the tournament's highest run-scorer. He averaged 53.45 runs in the T20 format. Chris Gayle was averaging 35 at this point. We also saw Hayden as an icon in the game, perhaps as I was brought up on the Ashes 05, but we thought he could really lend a hand to make the 'Goose seem like a genuine cricketing product, and not a gimmick. We began tapping up Hayden, and his agent, back in 2009 during the Ashes series and briefly netted with him in Finchley, at the Middlesex academy to demonstrate the bat.
Other players also floated around as potential signings, VVS Laxman, a friend of Stuart Law, our first ambassador, was discussed as a potential signing. As too were Andrew Symonds, Harbjahan Singh, Dilshan and Suresh Raina.
Less sexy than schmoozing International superstars, was negotiating with the county pro's on the circuit. At one point, I vividly remember answering the office phone to an Essex cricketer we hadn't spoken to before. Introducing himself to us by only first name, he went on to ask for some bats to be sent down 'for the lads to try out'. The main thing we always were looking for in a player, was a willingness to use the MMi3 — our previous experience with our initial signings was less than promising, and every player was now treated to a net session before signing the contract to ensure they were comfortable with the range.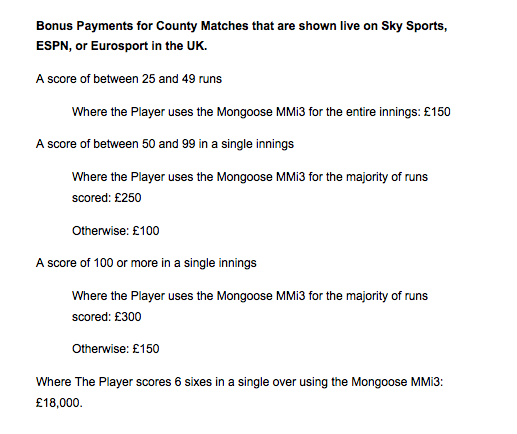 For the start of the season in 2010, we had signed up approximately 5 county pros including Gareth Andrew, Chris Benham, Ian Blackwell and Azhar Mahmood. Again — our reputation was that we'd pay better than any other brand, with small retainer clauses and some hefty bonuses if runs were scored. 2010 was shaping up to be an exciting season.
The Mongoose launch into India
The IPL, and India in general, was identified very early on as a huge growth market for the Mongoose bat. We'd begun sniffing out players right from launch date, who could spearhead the brand launch into the India market. Raina, Smith, Dilshan, Gayle were all names thrown around the office. But it was indeed Matthew Hayden, who was signed to endorse and lead the charge into India.
Hayden was first exposed to the Mongoose during the 2009 Ashes series. He was over in the UK on commentating duties, and was persuaded to try the bat during a specially organised net session at Middlesex's academy in Finchley, North London. Hayden had been dropped by Gray Nicolls a couple of years prior, and despite leading the IPL 2009 run-scorers he was still without a bat sponsor.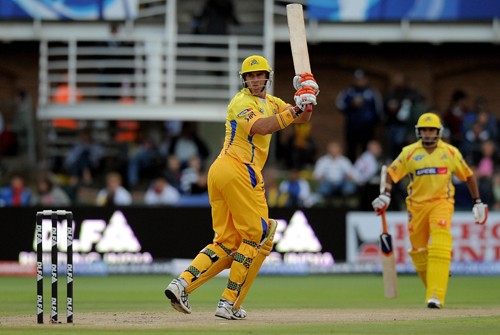 Hayden was also eyeing potential opportunities for himself post-cricket. Already in Australia was he a TV personality, running a cooking programme and making regular 'talking head' appearances — but through his company and management they were keen to look into sports investment opportunities. We saw a great potential opportunity, to link-up long term with Hayden and his team and begun thrashing out an initial sponsorship contract.
Like most of our contracts at Mongoose, we always would aim to pay attractive retainers with some obscene bonuses. A perfect storm of an innings by Hayden, could potentially have cost in excess of $200,000 USD with bonuses for 3, 5 or 6 sixes in an over along with landmark bonuses for reaching hundreds and fifties. These bonuses were all reliant on the use of the radical MMi3 bat, designed to encourage the players to use this model rather than the more conservative CoR3.

In early February, the Hayden deal was all tied up and we begun work on the overall launch plan into India. Hayden made his order for equipment, which included an order of 20 pairs of gloves. A traced hand, was sent through along with leg measurements to ensure the protective equipment fitted perfectly. Bats were ordered from 2 of our suppliers, both Hunts County here in the UK and Sareen Sports, who had previously made bats for Hayden during IPL 2009. In total, we had shipped around 40 bats across to Chennai for Hayden to select from and to use over the period of the tournament. Hayden wasn't particularly picky about his bats, requesting bats weighing 'around 2lb 10oz' ideally with some red heartwood in the blade.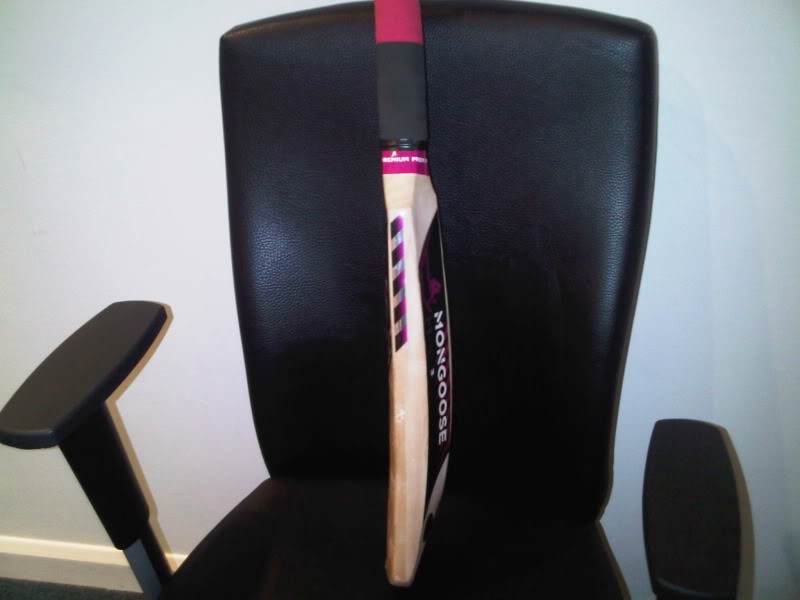 We also managed to sign a second contract for the IPL with Deccan Chargers player, Andrew Symonds. Symonds had no intention to use the MMi3, and was more picky about his cricket bats sending over bats to be replicated by our batmakers in the UK and India. He too used around a 2lb 10oz bat, albeit with an incredibly thin shoulder, low middle and rounded back — without the concaving which was all so fashionable at the time.

On the 11th March 2010, just 1 day before the IPL kicked off — we announced Hayden to the Indian cricketing fraternity. Initially we'd debated around creating a teaser campaign, sending Hayden out with blank bat with a huge question mark on it with the intention of creating interest. But after the success of the UK launch, and with the IPL schedule — we opted for the traditional launch with a refresh and update to the branding we were using in the UK. The main launch took place at a hotel in Delhi with MCF, Mongoose's CEO, and Hayden doing a Q&A. We even hastily put together a net outside of the hotel, so the press could get some early action photos of the bat in action.
The following day, all major Indian papers ran a story, much like this: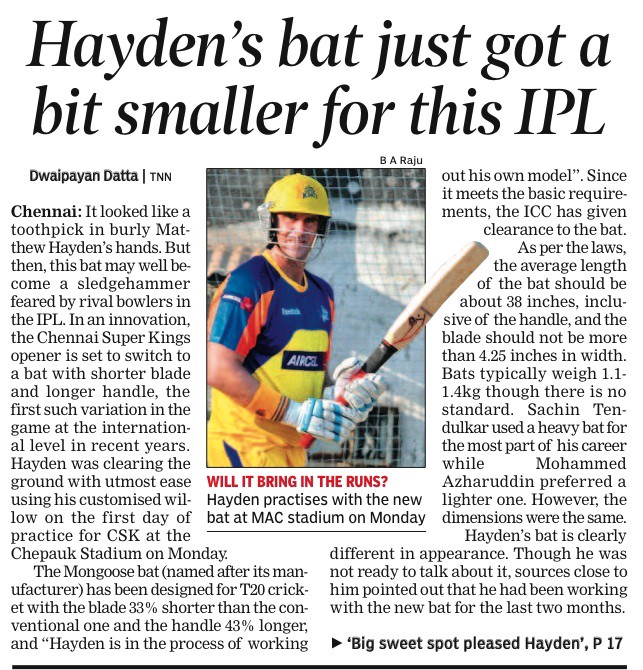 India had gone Mongoose crazy
Whilst we'd got the launch nailed. What we hadn't sorted was distribution, or even a partner to sell the bats in India. Ideally we'd have been like Apple, able to roll 100's of bats into stores the next day for the baying public to pick up. We didn't have any bats in India, nor did we have any suppliers, salesman or retailers who had agreed to stock the bats. A supply/distribution agreement was quickly drawn up with Sareen Sports, our Indian manufacturer of bats, but this was only for 100 signed limited edition bats which would retail in excess of £300 (20,000 INR). SS were also a competitor in the marketplace, as well as a partner, they were keen to maintain their position as the no.2 bat manufacturer in India — and a bold UK brand with what seemed like boatloads of financial power, must have been a concern for them. Of the 100 bats we distributed on sale and return (the retailer would only pay us on sale of the bat), we saw only a small portion sold and invoiced. The business, with only 3 full-time employees at the time, was struggling enough in the UK — selling, distributing and producing bats for a market so fragmented and big as India was a bridge too far.
Despite the production, distribution and sales woes. On the pitch, and on the TV, the Mongoose was a revelation. It excited the public, and players, with a number of Chennai's cricketers wanting to use the bat despite being sponsored by other companies.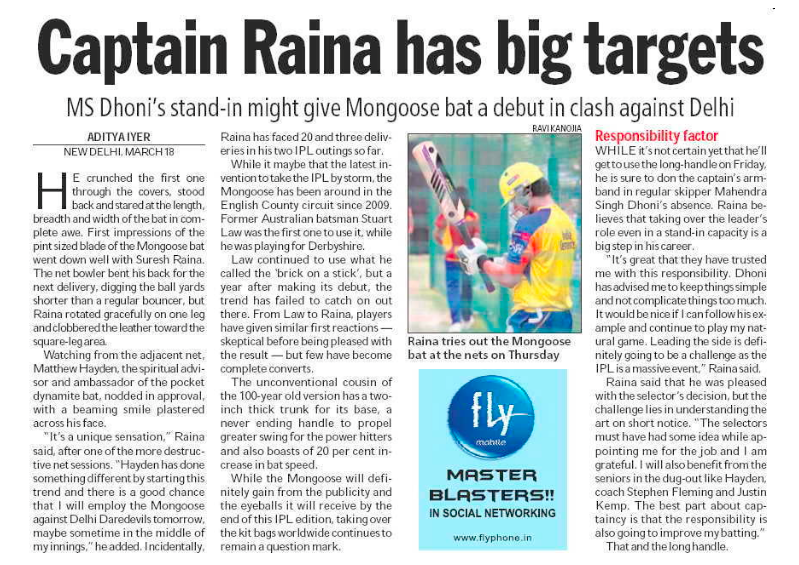 Its first public, televised, outing was on 19th March 2010, for against the Delhi Daredevils. Marcus, our CEO, was at the ground in the Chennai box. Dave, our Sales Manager, and I were sat in the UK Mongoose offices, next to those of the PCA (Professional Cricketers Association). Hayden opened the innings with a traditional bat, and on the 2nd ball of the 4th over Hayden called for the 12th Man.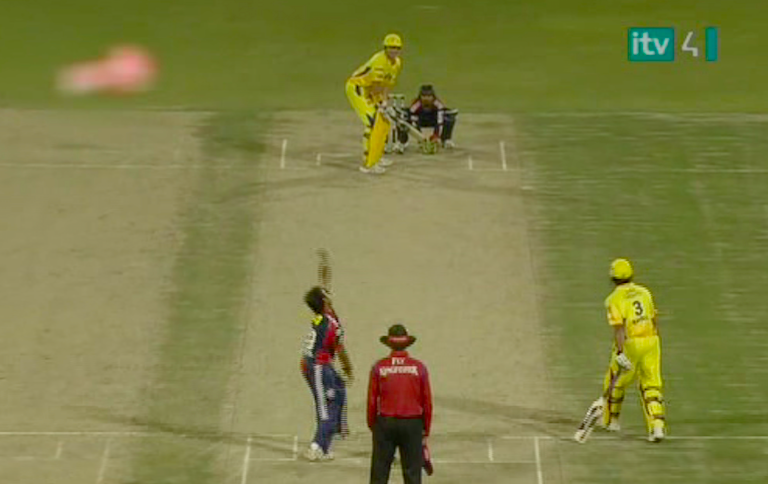 This was our cue in the UK to hit the pub, and hopefully see history made. It was the first time we'd seen the MMi3 live on TV, and I was shaking like a leaf. I can imagine bringing your first born into the world is a similar feeling. Hayden's first balls faced with the MMi3 were a dot ball, then a single. The commentators were laughing, and began to think it wasn't possible to time anything with this 'half bat'. Then, against Rajat Bhati, all hell broke loose. The next 4 deliveries were 3 fours, then a six. The medium pace was no match for the power and timing from Hayden. Next up was Dilshan, looking to take some pace off the ball — he was soon tonked for 21 off his first over. An over containing 3 sixes, an over which alone would have cost Mongoose over $18,000 USD in bonuses. The brash bullying continued until he was caught for 93, off only 43 balls.
The response
For us, we thought this would be a real watershed moment at Mongoose Cricket. From here we'd power on to become the force we aspired to be, both in India and the UK. The Mongoose bat trended worldwide on Twitter, we were again on the front pages of every Indian newspaper. Even ITV had put specifically together a montage which was wheeled out every time Chennai would go on to play.
However, in the history of Mongoose we'd go on to sell less than 50 bats in India. For a company that had seen India as the big opportunity and untapped marketplace, and had thrown in excess of $500,000 on launch costs and sponsorship it was a catastrophic failure.
So what went wrong?
We had a lack of partnership, or distribution deal before launching.

The decision to launch in India, was one taken quite late, giving us less than 3 months to plan and execute a full launch strategy whilst maintaining the growth of the UK brand which was entering peak season. The launch was to include new product lines (in way of bat branding), manufacturing, player sponsorships, press conferences and of course full distribution in India. With the benefit of hindsight, we can all see that this timeline was way too optimistic, and although we managed to nail the launch, and even had 1500 bats sitting at the factory ready ,  the distribution was something we didn't fix. India is a very fragmented market, where retailers need face to face visits and personal phone calls. This was unlike the UK, where a brand can maintain growth with occasional phone calls and an ordering system which a retailer can access. Originally we were offered a licensing deal with a manufacturer, and in hindsight perhaps that would have been a better option.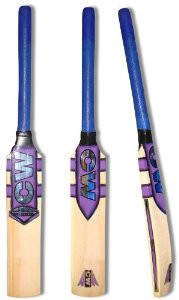 The lack of availability in retail led to counterfeiting and a drop-off in interest from customers. The bats which were available were very few and far between, and were pitched at a cost in excess of 20,000INR which was right at the top end of the market.
Hayden also went on to struggle for the rest of the tournament. For the remainder of the tournament, he was yet to exceed a score of 30 runs in an innings. Leading many to lose belief in the Mongoose, or treat it as a fad. Andrew Symonds, our second player, would only use the more traditional CoR3 which didn't grab the headlines of Hayden.
By June 2010, only 2 months after launch, our visibility in India was next to none existent. Any future movement into India, would almost be a totally new launch. The efforts to crack the Indian market had been futile, but what a ride it was.
Continued PR push into the UK
Most people would probably think the launch into India was it for Mongoose. But weirdly, it wasn't. Despite the lack of sales into India, we considered the launch a relative success. Mongoose were becoming known in the industry, we'd continued our PR push and UK sales were buoyant.
Production issues had been solved too, in the UK, we had a large 1500 bat order coming in from India; made possible by the sales and payments made by retailers for their March-May 2010 orders. UK sales had been directly impacted by the Hayden innings and the press from the IPL. In 2010, the IPL was the only cricket on terrestrial TV. IPL games would peak at audiences of 560,000, the England Test matches in Bangladesh which were taking place at the same time were averaging around 160,000 viewers.
Our sales from March-May were around the 950 bat mark (£57,000), compared to 300 (£25,000) in the September-December period. We'd hired 2 new salesmen, one of whom was an incredibly talented South African sales manager who later went on to run the company after its administration in 2012.
In May 2010, we were also awarded an industry award for the 'Greatest technological innovation in Sport' for the previous year. The award, won the previous year by the now banned Speedo Swimsuit demonstrated some of the waves we appeared to be making in the industry.
The company was still far from profitable, we had 25 sponsored players on the books at this point. Alongside the superstars of Matthew Hayden, Jimmy Anderson and Andrew Symonds were the less famous, and less talented likes of Mohammad Ashraful, Malinga Bandara, Phil Edwards, Suraj Randiv and Adrian Shankar. Some contracts were for incredibly high values too, one such player was earning in excess of £15,000 a year and some county players were on retainers in excess of £10,000. That's a lot of bats we would have to sell.

Investment
Despite our spiralling costs of sponsorship, we did in August 2010 secure further investment for the continued expansion of the brand. We still had bold plans to conquer Australia, India and South Africa; and we also needed to plug the hole in the bank account which was making production for the upcoming 2011 season difficult. We'd taken on various loans of the 2010 season, to fund ongoing production and sponsorship fees.
Our previous round of investment had been back in November 2009, and shares were valued around £30. The company was considered to be worth around the £800,000 mark. This investment new round raising £220,000 would be at a value of £75. The company was now worth over £2m and optimism around the brand was incredibly high. The India mess had not dampened any spirits.
Production for 2011
For me, this was also the most exciting time for Mongoose. We'd go to the drawing board, and come up with some crazy ideas which we would try and get manufactured in India. We always used to read the Pantone guide for what they felt would be the key colours for the next couple of seasons, and for 2010/11 we decided on a bold colour scheme of pink, purple and red.
Often people ask where the inspiration for our ranges came. Most interestingly our bat sticker range inspiration came from the strangest of all places. Generally speaking bat designs, back in 2010, had been very square in style, and one of the greatest challenges is making this identifiable from 100 yards away.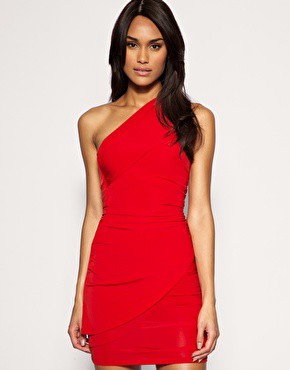 Our solution was to try a new shape. And this new shape came from women's fashion. In 2010 the 'off-the-shoulder' style of dress was on every catwalk, and we loved it. We decided to take this style, and run with it as a new design of bat sticker.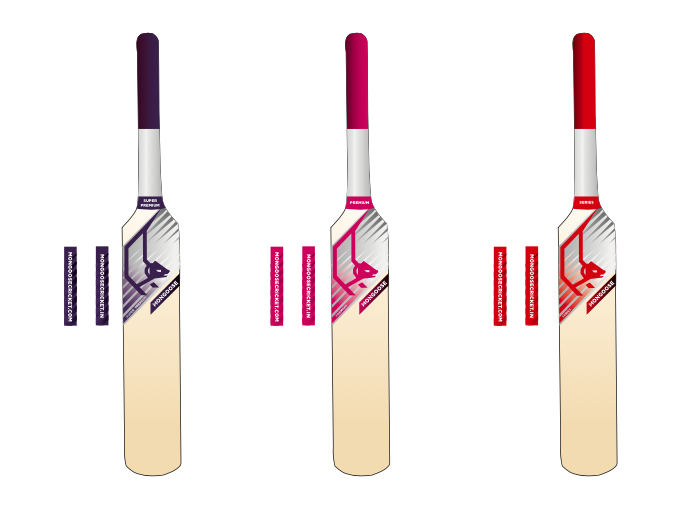 Pads and gloves, also hadn't progressed much design wise since around 2005 when Puma launched their bright orange Classic range. We wanted to push that boundary, and use our full colour scheme so any standard of pads/gloves would match with any of the bats (we'd taken the unusual step of using a different colour to represent grade of bat).
For much of June/July 2010 our office was awash with various drawings, scribbles and computer mockups of what we may produce.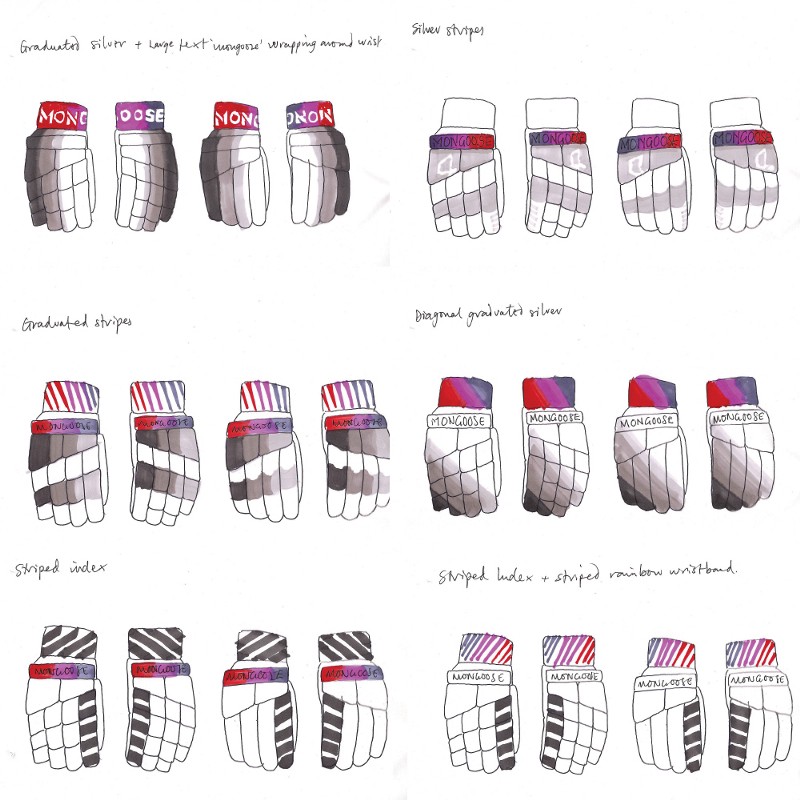 Production with India, and the suppliers was always difficult. And we never quite got anything right first time. Here's a few examples of what they came back with based upon the designs above: